Instructor: Profile of Satoru Suzuki


Profile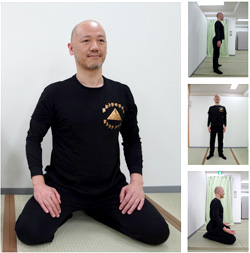 Satoru Suzuki, Master of A-Ray Style Chu Shin Qigong
Palm Reading consultant. Meanwhile, He has learnt A-Ray Style Chu Shin Qigong from Grand Master Yoshio Arai. By the expansion of awareness which Grand Master Arai has instructed, Satoru has recognized these matters: Everything in the universe is shared with everybody, and Qi, the origin of everything is "the Light (the great consciousness)". Satoru's instruction of Qi is very popular regardless of whether it is in a private class and a group lesson. The private sessions of Qigong cure/treatment/healing are, also, in high demand.

<What you can learn & experience from A-Ray Style Chu Shin Qigong>
What I'd like to tell you is about the vibration & the consciousness・・・There are various paths in order to reach the consciousness. When people who learn A-Ray Style Chu Shin Qigong also aim at consciousness, many changes in their everyday lives will come out in response. The ultimate change is the vibration which you have becomes the same as the vibration of the universe. Through A-Ray Style Chu Shin Qigong which can check the vibration.
<Qigong is to feel Qi and to control Qi>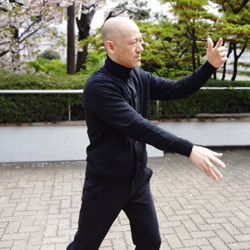 When your consciousness is settled in the center place (abdomen), your vibration will become finer. Since your consciousness is expanded, you'll be able to recognize Qi, which is difficult to see or feel, and, also, to control it.
There are so many trainings which remove rust from your mind and body (unnecessary tension) to form and keep the condition which makes Qi flow in your body (Chu Shin Dance, Tai Chi, Hachi Dan Kin, and Chu Shin Dou).
<Consciousness is "the Light">
This world has ultimately been built by consciousness. When we recognize that the ultimate of the consciousness is "the Light", we'll be able to dissolve all our troubles and pains. Basically, people have the potential capability to resolve such problems. It is Chu Shin Ryoku (central force) which draws a person's ability to the maximum. The concrete practicing method which produces Chu Shin Ryoku (central force) is A-Ray Style Chu Shin Qigong.
Message from Satoru Suzuki
I would like as many people as possible to spend happy days by recognizing existence of Qi and experiencing the bloom of the potential ability by expansion of consciousness.
Furthermore, I would like to support that you'll master all skills related to "consciousness is the Light", which is worthwhile. We hope you will be able to join us.
Satoru Suzuki